I'd like to introduce my guest blogger this week – Suzanne Dibble, The Small Business Law Expert! I'm sure some of you will know her already, she is the go-to lady when it comes to business law, a legal marketing supremo . Her blog is all about making sure you are properly protected from social media legal implications. Scary stuff if you read what she has to say below.
Last Friday I had the pleasure of giving a talk at the Social Media Summit on the legal implications of using social media.
So many of us use social media now, whether for our business or for personal use and it is important to understand the legal implications of our tweets, our posts, our pins etc and make sure that we aren't doing anything that gets us into hot water.
I shared with the Summit the story of the Virtual Assistant from Milton Keynes who is being sued by a Middle Eastern business because she named and shamed them on Twitter for non payment of an invoice.
The unpaid invoice was for £146 and the claim may cost her in excess of £100,000 (not to mention the time, stress and worry about being taken to court).
And on the personal use side, there is the salutary story of Sally Bercow who tweeted this: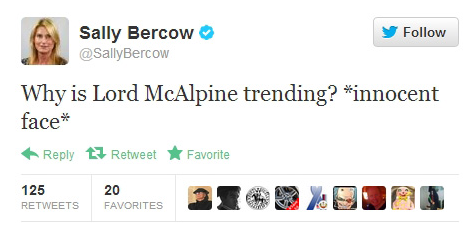 This was tweeted at the height of the media frenzy into the allegations of abuse at childrens' homes in the 1970's and pointed the finger of blame at Lord McAlpine.
Lord McAlpine sued Sally Bercow and in addition to the damaging publicity, time and stress involved in the court case, Sally Bercow was also ordered to pay Lord McAlpine £15,000 in compensation.
I could share with you many more stories of ordinary people ending up in hot water (or even prison) because of their improper use of social media. Don't let that happen to you – stay safe when using social media by downloading my Social Media Checklist and checking that you aren't doing anything you shouldn't be on social media – just click this link to get yours>>