The message about the importance of 'branding' can be a hard one to get across to smaller business owners. How to make it clear that it's about SO much more than your logo and that your brand 'stand' for something important. Well, maybe my tale from one of the UK's BIGGEST brands will teach us all a lesson on the importance of making sure that everything you do lives up to your brand values
How excited were we to hear about a possible heatwave – at last! Hoorah! Mr Day – the goodly 'other half' – likes to be prepared for such things and ordered 8 bottles of Ambre Solaire factor 15 and a single bottle of P20 from Tesco Direct in readiness for the glorious summer ahead (well, surely all that rain has to average out somehow?).
So, I was jolly surprised when I answered the door to the postman a few days later, only to find him laden down with nine separate parcels of the same size. I assumed they were some technical gubbins for Mr D's business – but no, on later inspection, we discovered they were the very same 8 bottles of Ambre Solaire factor 15 and a single bottle of P20.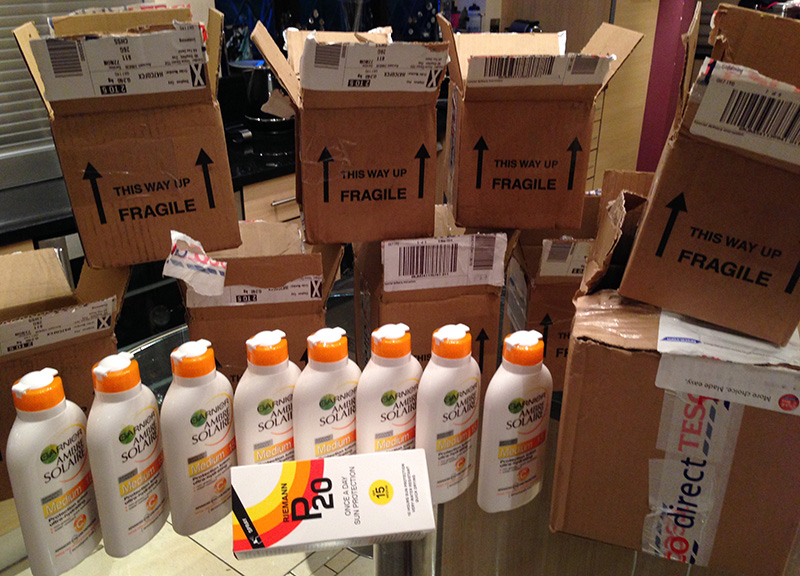 I kid you not – each one was parcelled up individually! Despite the fact that we managed to get all the bottles into a single box with no trouble at all. Each box even warned the carrier that the contents was 'HEAVY' … !
A number of extraordinary thoughts occur …
The labels printed off acknowledge that each label is 1 of 9, or 2 of 9 etc. Meaning they definitely knew there were 9 items…. so I can only assume this is their system – and not a one-off?
Who knows what their delivery rates are, but checking it out via Royal Mail parcels, sending them collectively as one box would have cost half sending them individually, ignoring the costs of packaging and the time taken in packing them.
Amazon – where I buy masses of stuff using their 1-click service, meaning they are all received as individual orders – manages to pack multiple orders in single box.
I mean, apart from this being absolutely barmy at every level of corporate stupidity and wastage, what does it say about their very clear brand message … that 'every little helps'? Well apparently not to Tesco – one can only assume they must be earning a lot of dosh out of their customers for this to simply not matter enough to solve it.
And so, my friends, I rest my case for the importance of proper congruency between your branding and brand values. And small business owners are in a MUCH better position to control this than the big corporates. I am hoping for some seriously red faces when I raise this with Tesco via social media!