I found myself having a video conversation with a client yesterday morning. They are a 'professional practice' and they provide advice to 'high net worth' clients. And they are not alone. Literally hundreds of other businesses do exactly the same for exactly the same types of clients all over the UK.
They, like the majority of other advisers in their sector, are very protective of their professionalism – understandably – and don't want to do anything that might harm their brand. I completely get that.
But they also want to get their message across. They want to stand out from the crowd. I completely get that too.
So, there we were talking video. There are a lot of VERY good reasons why they – or you – would want to use video in marketing these days – not least of which being that Google owns YouTube (that's quite a BIG clue) and YouTube is reckoned to be the most under-rated social media platform around.
Plus we are very good at consuming video – most of us practice for a few hours every evening. In fact, according to The Guardian back in October 2013, we spend an average of 4 hours every day fine-tuning our video consumption skills!
But here's the thing – they definitely do need to be using vide BUT if they want their video to work for them, it's gotta stand out. They have just a few minutes to get across a BIG message. Not just about what they do, but about the way that they do it. Being just 'another' professional advice practice will just merge them into the grey majority. Standing out matters – a lot!
So – what does 'standiing out' in video look like?
Well, here's a couple of thoughts for you … what do you think about this great video from Miller Estate Agents in Maidstone? If you were selling your house in Kent, would they get on your list?
To watch the Miller video, click the image or click here>>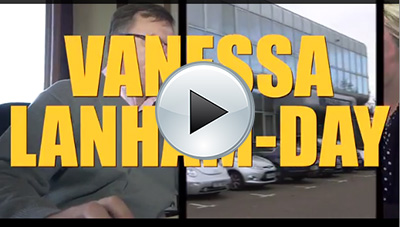 And, what do you think of my video – this one sits on my 'about Vanessa' page. Some people may think it makes me 'less serious' as a marketing adviser. Others may think – 'what a breath of fresh air!'. In other words, some will get it – and some won't. But, whatever you may think of it, it most definitely ain't grey!
To watch my video, click the image or click here>>
I'd love to see some of your videos – especially if they stand out from the crowd. Send me a link …vanessa@on-track-marketing.co.uk
And PS – no prizes for guessing my favourite 1980s' TV … !