Steve and I just got back from our 60th birthday holiday to Sri Lanka and it was, as expected, A-M-A-Z-I-N-G! Memorable and evocative on so many levels – the countryside, the people, the food, the elephants, the views, the atmosphere, the history. Everything.
However, no holiday is perfect and we had our fair share of stories to tell. The early onset of the monsoon when we got to the final four days of beach, resulting in what I can only describe as biblical downpours; honestly, all we needed was a plague of locusts to complete the picture.
And then there was the civil unrest incident which resulted in a state of emergency being declared. It was incredibly well managed and was, as these things mostly are, just a few stupid folk kicking off at each other. But nonetheless, it was a tad unsettling when we couldn't access social media and reassure friends and family at home.
Our mate Sujith …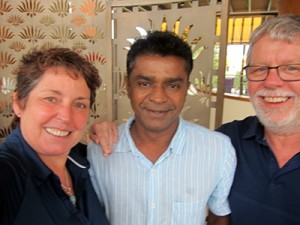 But it's often the people who make the biggest personal impact on a holiday, isn't it? And our cheeky and amusing driver and guide, Sujith, soon became a friend in the two weeks we were together.
Stories about his family (and the son who wants to be a film star) and his hard work to create a life and home for them all – and how they nearly lost it all in the tsunami back in 2004. With no paid for health service, pension or benefit system, it's ultimately all down to him to provide for his family – and he is hard working and ambitious.
So, you can imagine that it didn't take long before the matter of business growth came up! And it was surprising just how many of the principles I advise business owners at home about, were equally valid for a taxi driver in Sri Lanka.
The power of recommendation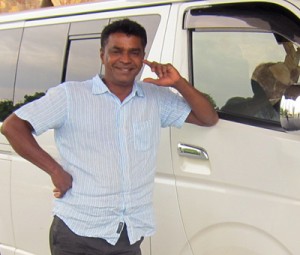 As it stands, Sujith relies on recommendation for all his business and many customers do indeed come back year in year out and recommend him to their friends. But there is very little leverage for him to build on this.
Which is why we found ourselves talking about the power of TripAdvisor – the perfect platform for web searching and recommendation. Sujith is relatively unsophisticated in his knowledge of digital marketing but, just as I would to anyone I advise, I told him he needed to become more savvy about it all if he's serious about growing his business.
So, before we left him, we'd set him up a new SujithTaxi email address and helped him apply for his TripAdvisor page. We will, of course, be the very first people to recommend him and we've suggested he send the link out to every contact on his phone that has been a customer in the past.
Then there is getting into the routine of always asking for reviews in the future and replying to people too. It won't take long to build up a bank of recommendations and, with the power of Google translate, it won't be difficult to communicate with new customers.
We've been staying on top of his progress – ain't WhatsApp a wonderful thing! And although it might not involve a sophisticated website, email marketing process, or a smart CRM system – it a system based in the solid principles of leveraging social proof and using the power of recommendation.
My question is, of course, when was the last time you used these powerfully in your business?