Last week – on 16th May 2018 – I hit my 30th anniversary – for me and the business that is! Communications Project Ltd. as it was then – now OnTrack Marketing.
It's hard to recall those very early days – what did I actually do on Day One, I wonder?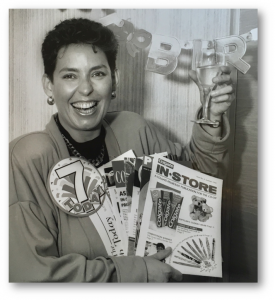 Definitely it was the days if sharp hair and shoulder pads – I can't find a pic of me from 1988, but here I am 7 years later. What a looker – captions welcomed 🙂
It was the 80s and I remember going to meetings armed with my smart suede leather briefcase with its Gucci stripe – and definitely the feeling that I was ready to take on the world. I also remember, despite my heady optimism, just how hard it soon proved to be to find and convert customers!
I found my old business plan the other day – all printed on my dot matrix printer, the output from my BBC computer with its 5.25inch floppy drive. There was, of course, no such thing as a hard drive in those days and the floppy disc could only hold a maximum of 4 pages!! Meaning my 16 page report was a wonder of data management.
I sat down ready to have a good old chuckle at my naivety and pomposity from back then – but actually I was astonished at how true it still read in terms of my purpose today; my target market; my service propositions; my plan. Seems I may have known more than I realised back then!
So, I guess what I'm saying is this…
Technology may change … Google, Facebook and mobile phones didn't exist back then – with all the marketing opportunities that go with them. It was all very basic.
But the fundamentals remain true. You still need to know who you are, what you stand for and your definitive purpose so that your customers can understand how you can help them. You need to know who your customers are and why they need your help. And, however sophisticated your marketing might be, you still need to be able to hustle and land the sale.
It took six months of heading downhill at an alarming pace before I woke up and smelt the coffee. I learned to hustle and to make the most of the opportunities that presented themselves, whichever recession we were in at the time.
Which I guess is why I'm still here 30 years later – with less shoulder pads, thankfully!!